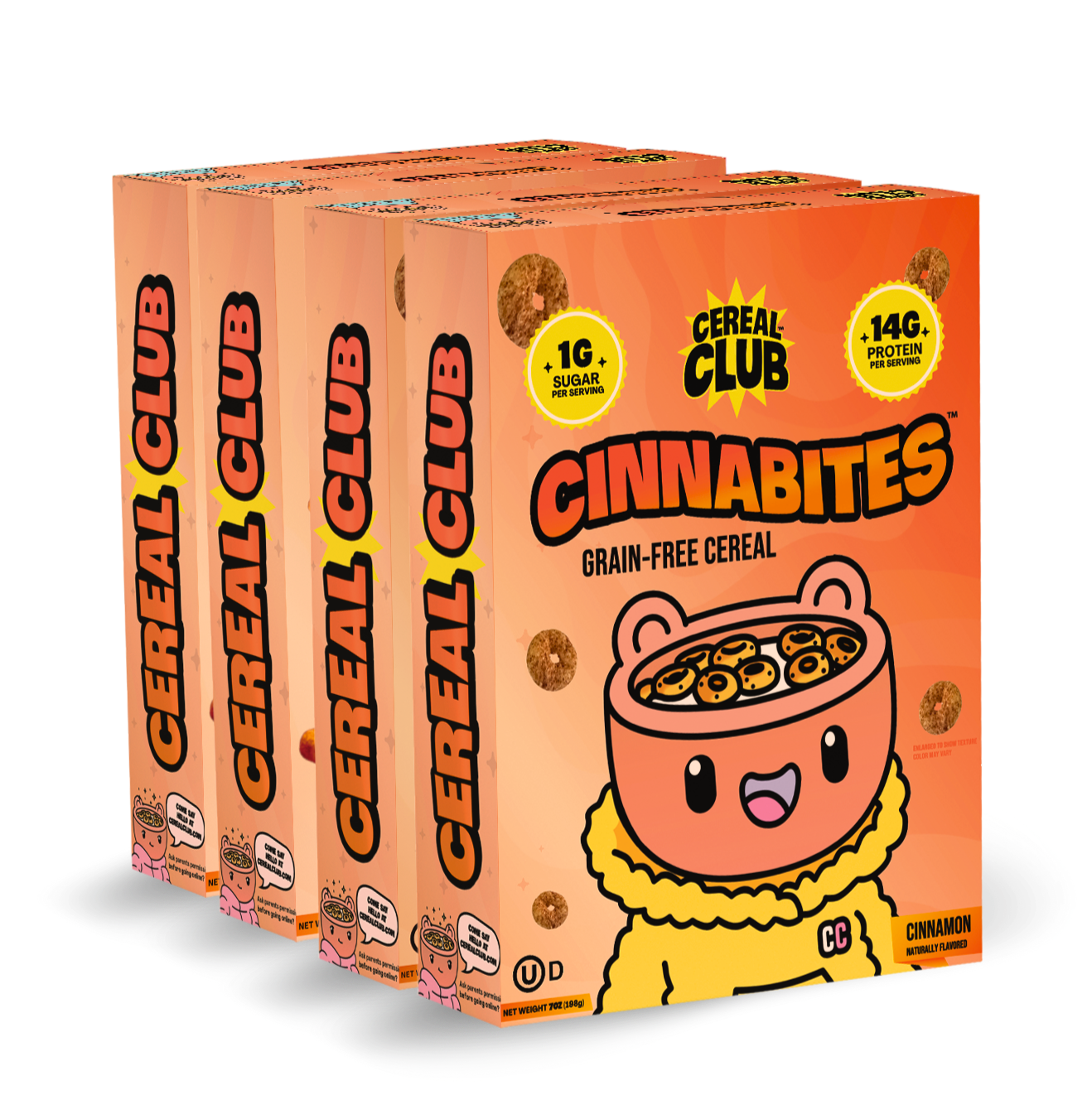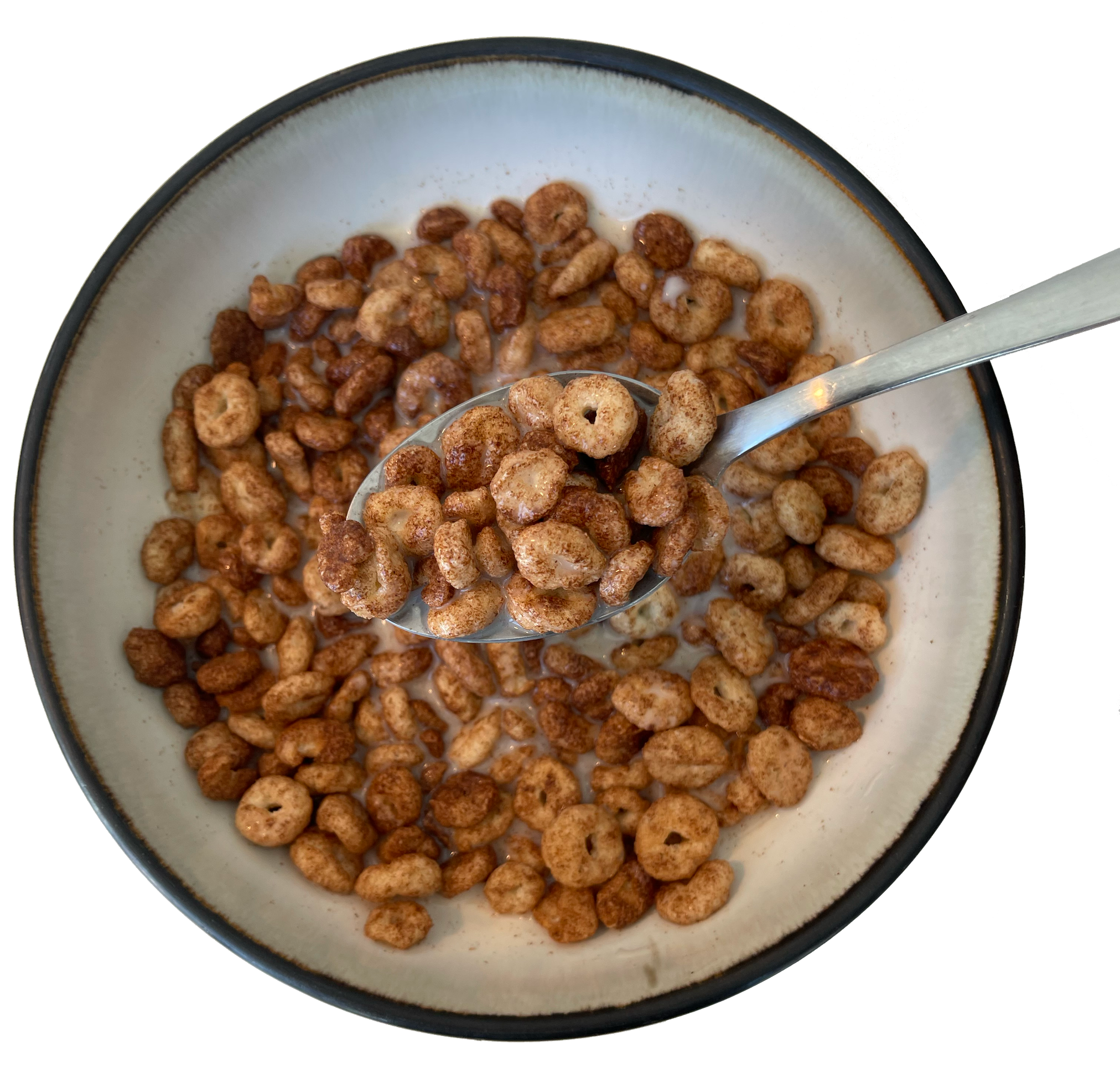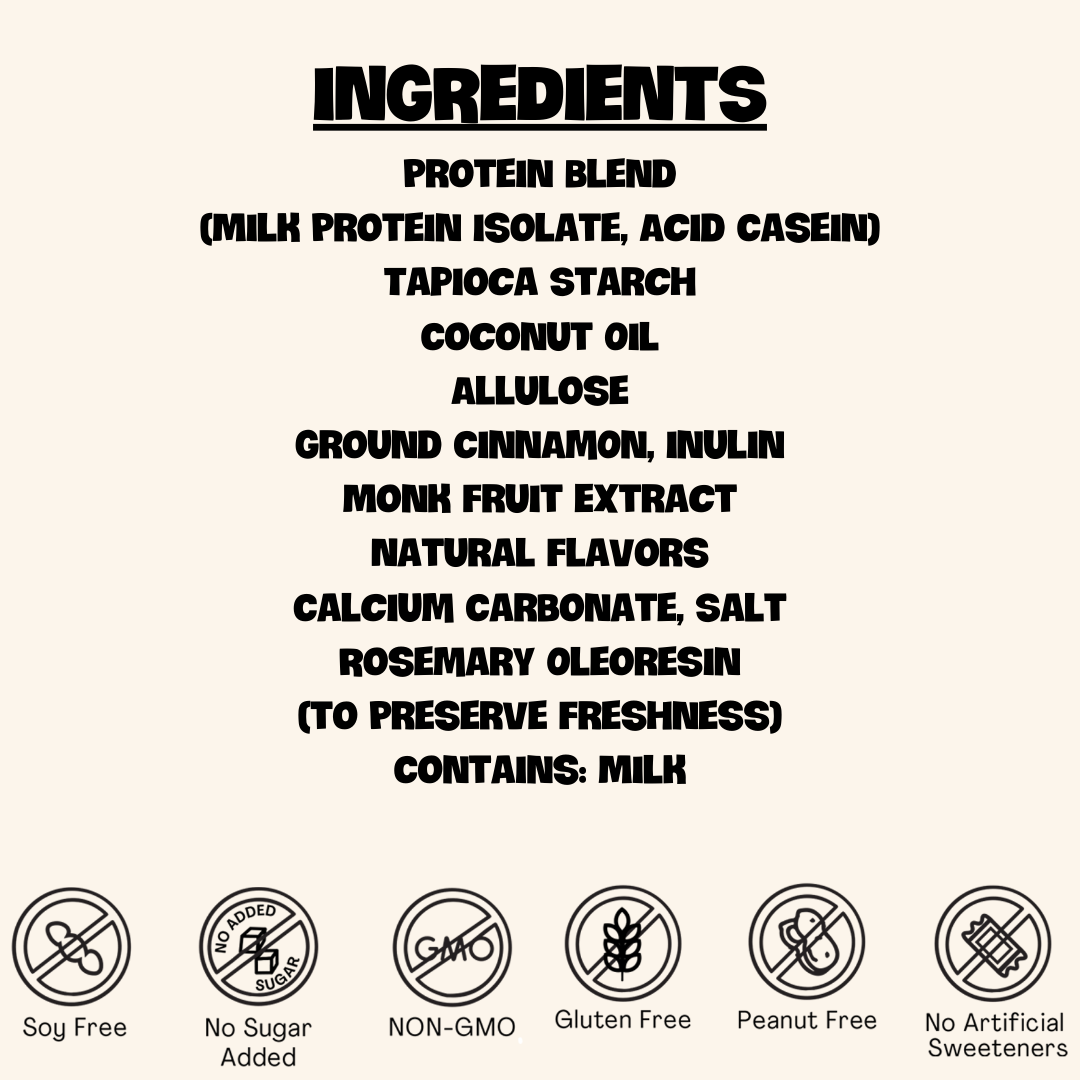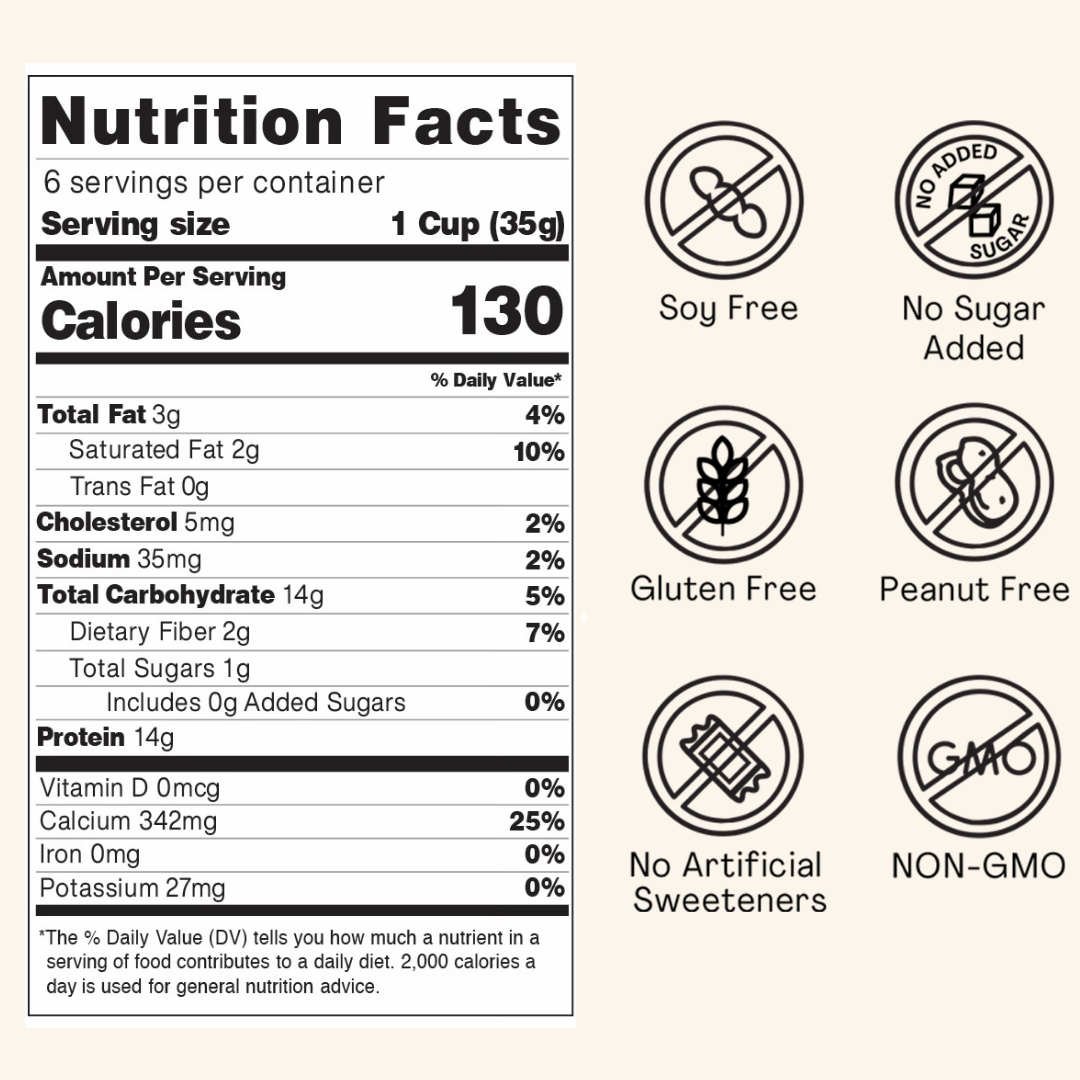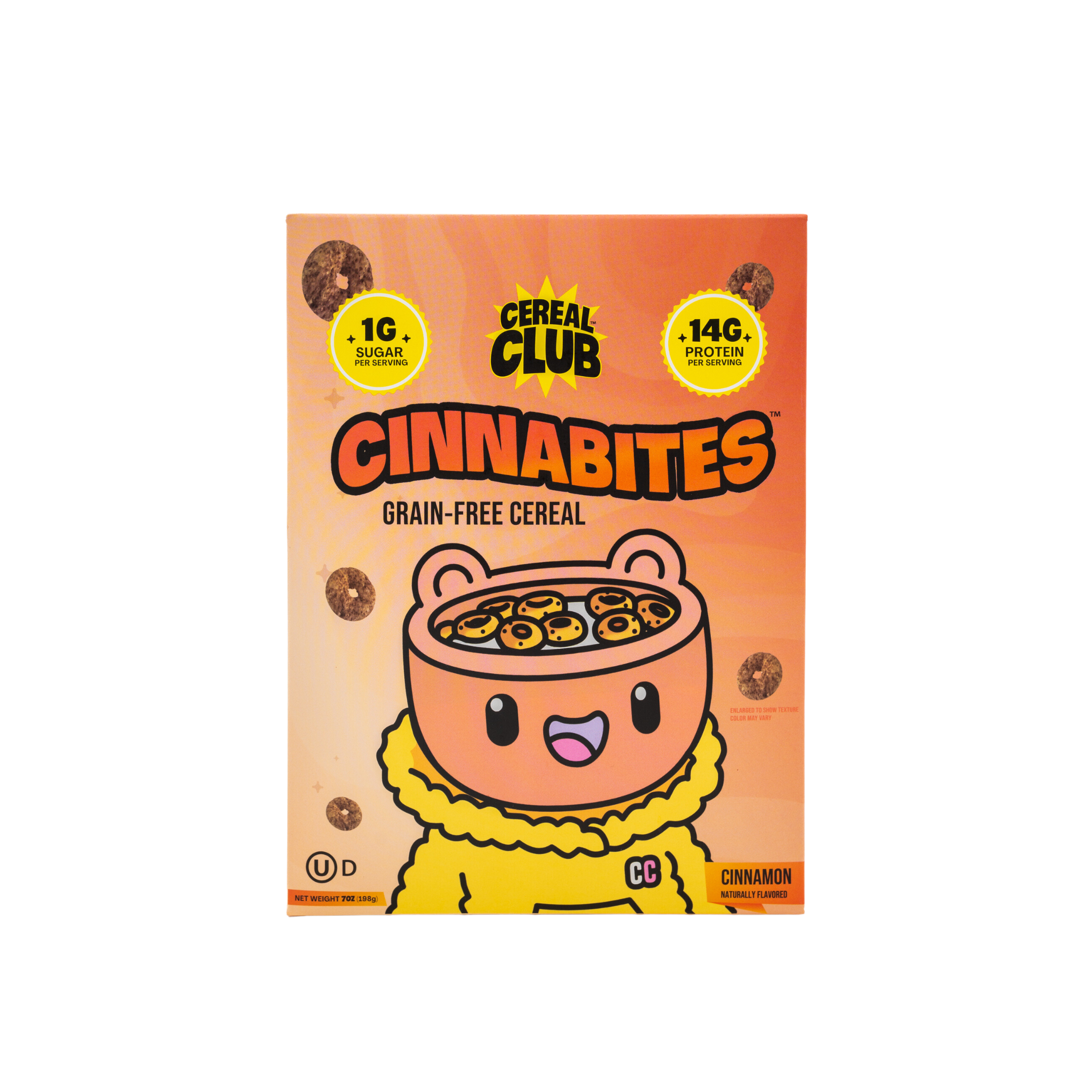 Cinnabites - 4 Pack
Meet Cinnabites - your elevated cinnamon cereal. We've reimagined your favorite cinnamon for a delicious twist packed with 14 grams of protein, no artificial ingredients, and only 1 gram of sugar!
HIGH PROTEIN

MADE WITH LOVE

LOW SUGAR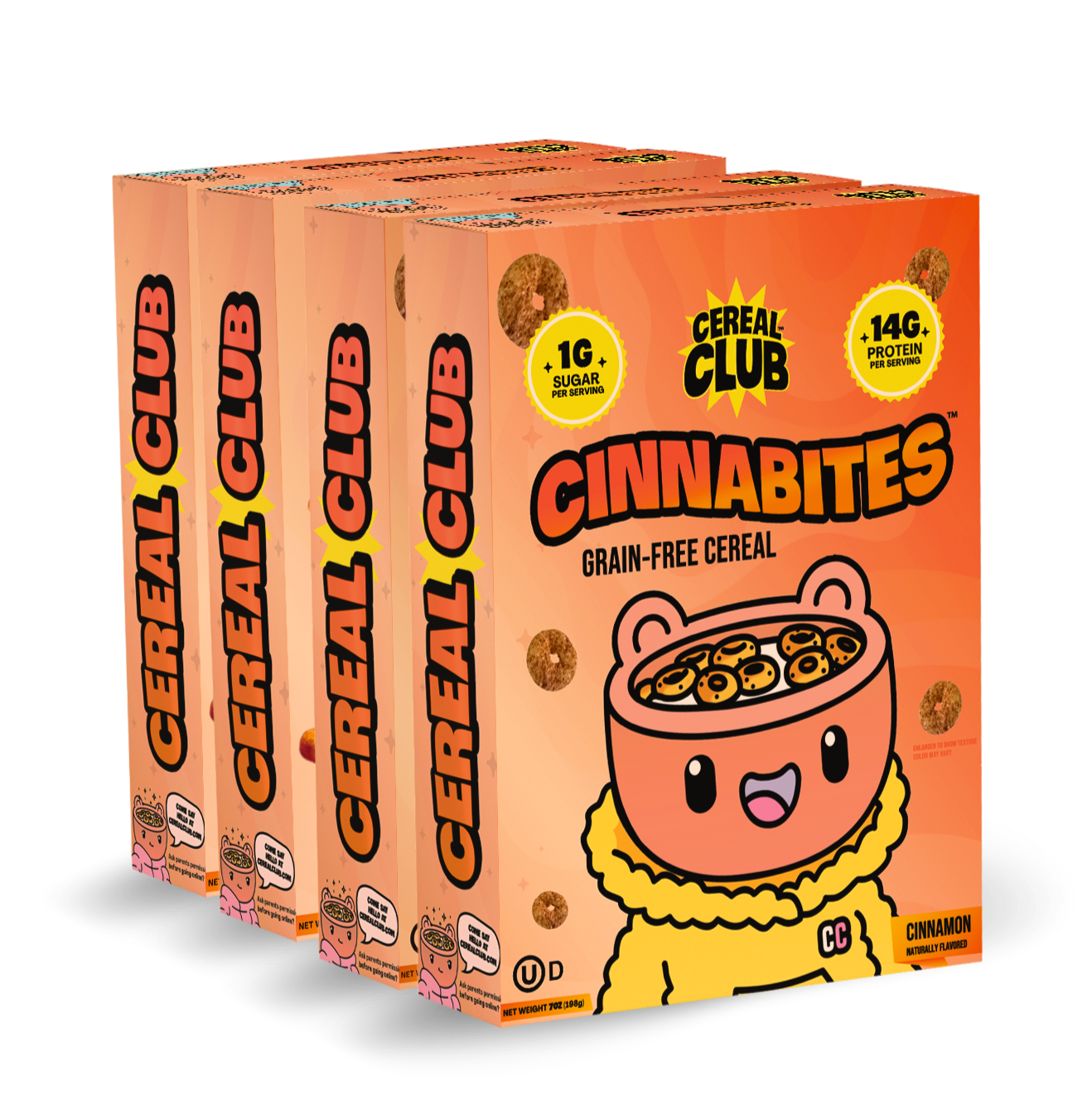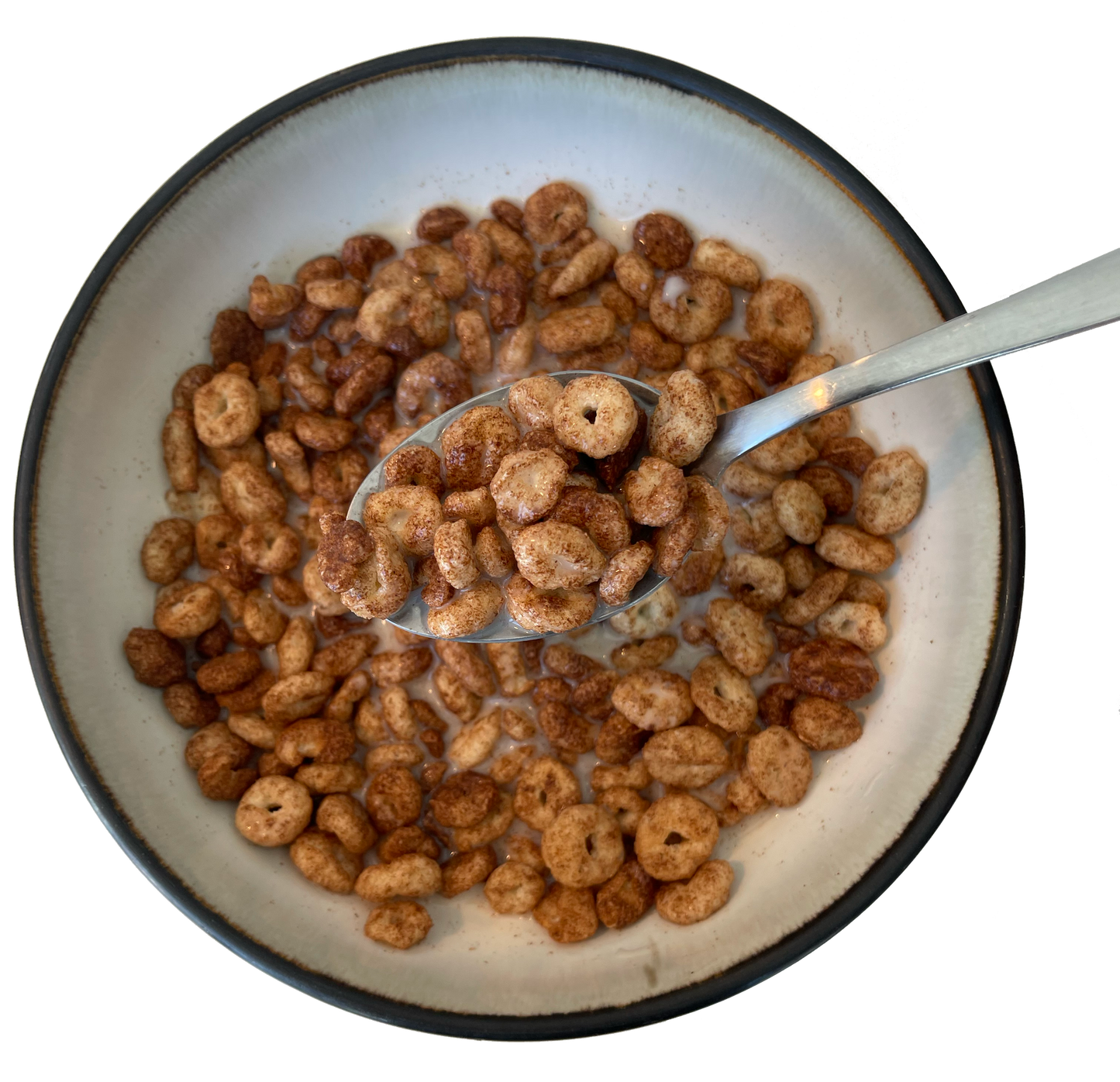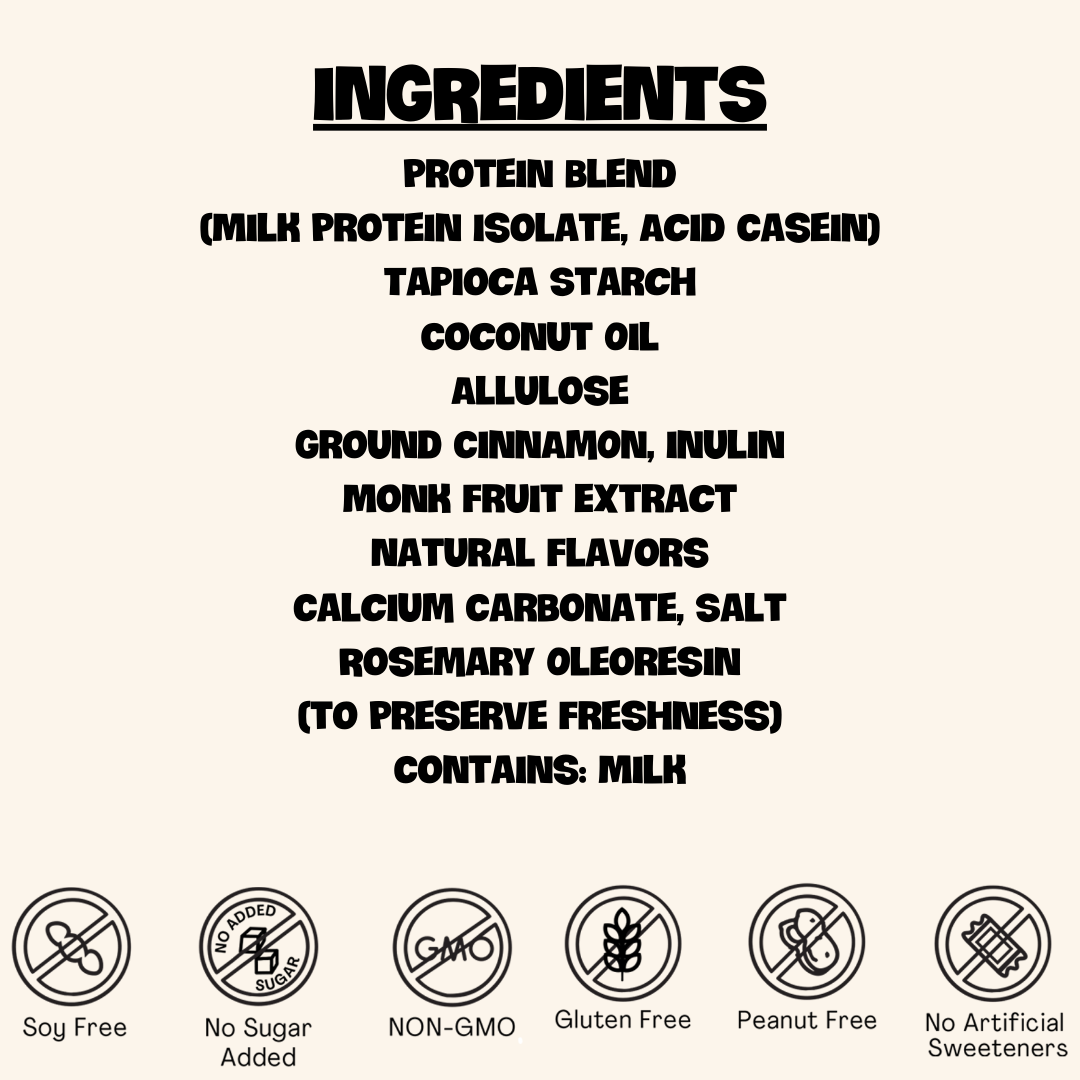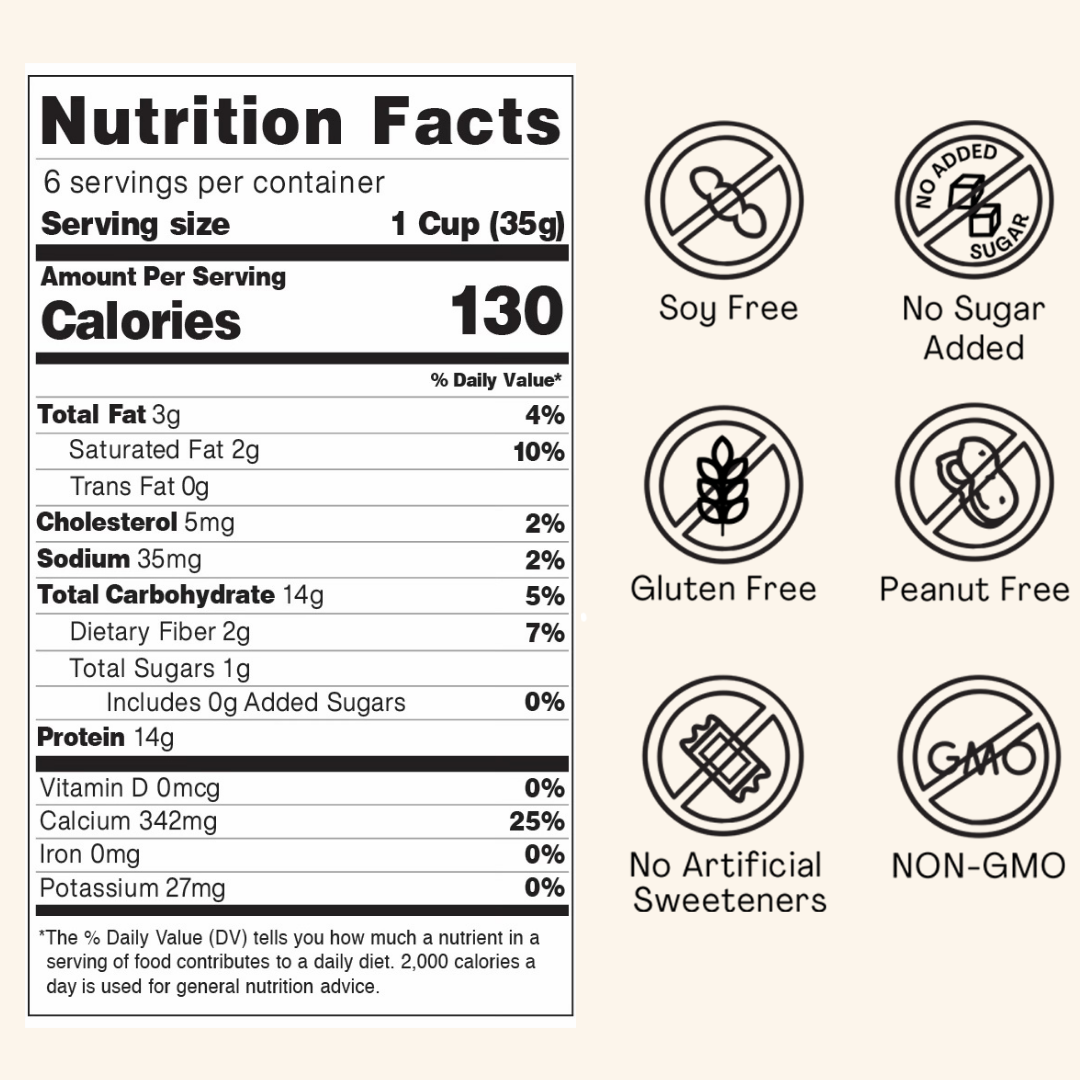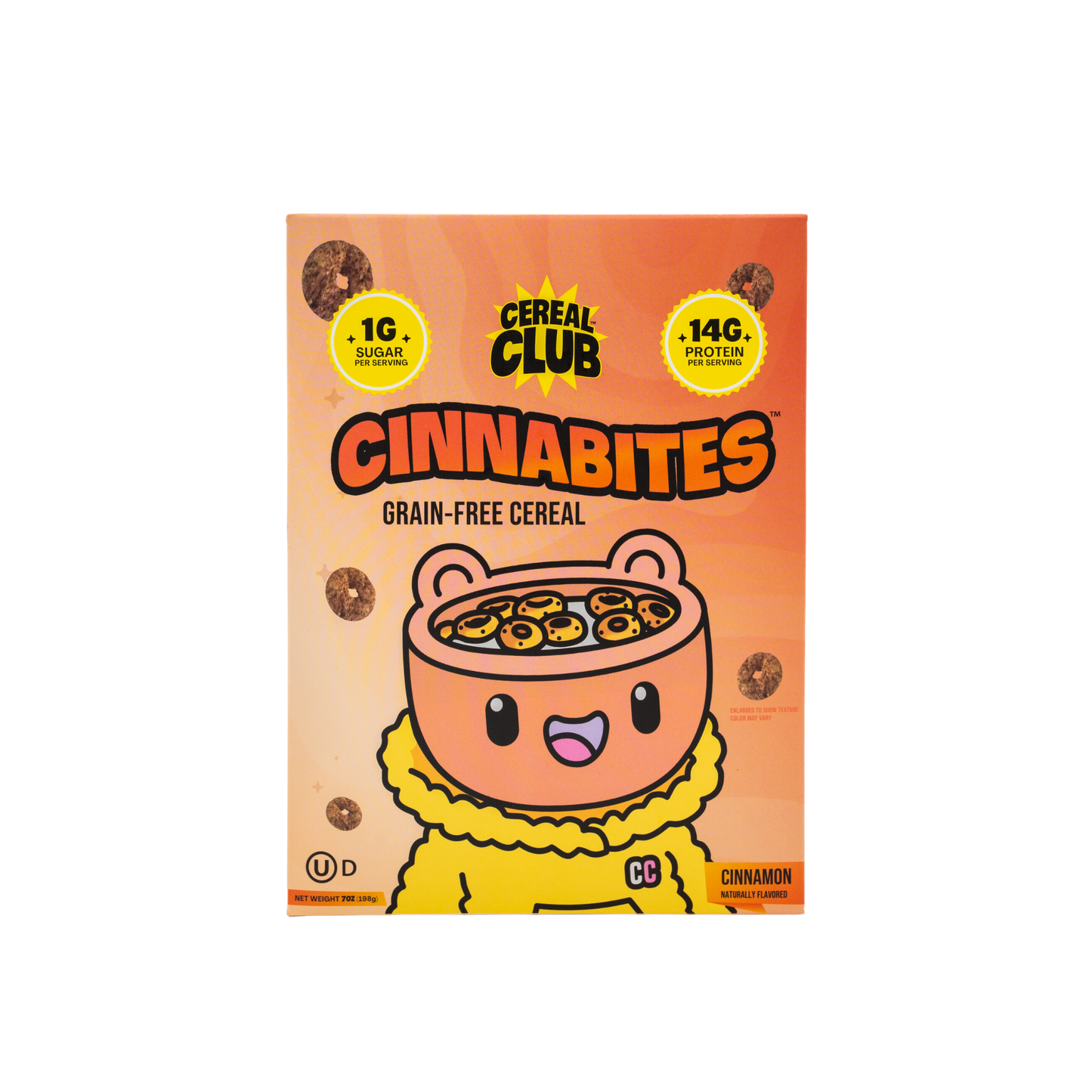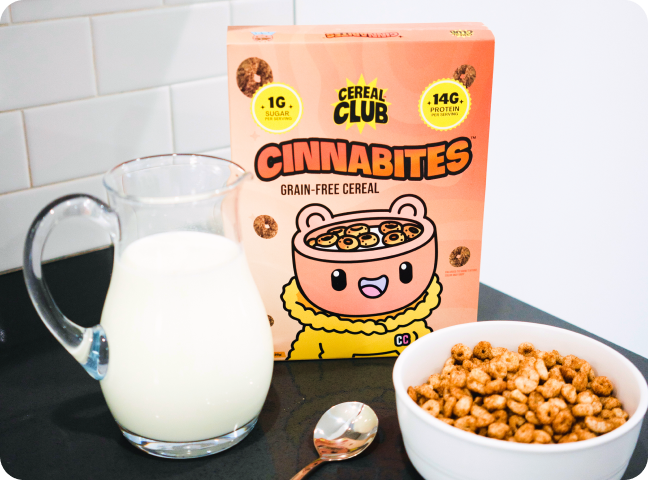 Tastes Too good to be true
We believe that healthy & delicious shouldn't be mutually exclusive! Our tasty cereals are packed with nutrition without any nasty stuff.

low sugar
Enjoy all of the sweetness without any of the guilt - our cereals contain only 1g of sugar per serving!
high protein
Get your morning started right with 14 grams of high quality, milk protein to power you for the whole day.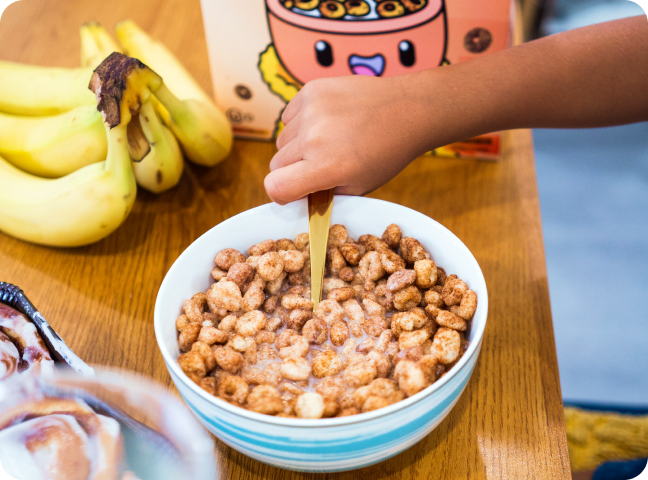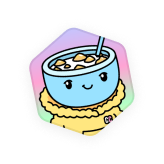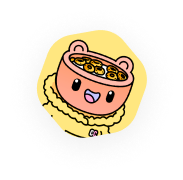 NO ARTIFICIAL SWEETENERS
Delicious cereal created with a magic mix of natural sweeteners and flavors.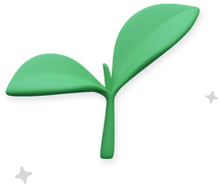 NO SEED
OILS
Our cereals contain coconut instead of commonly used oils like sunflower oil.
SIMPLE INGREDIENTS
We have a short and sweet ingredient list without anything scary.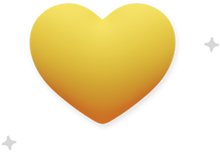 "My New absolute favorite cereal"
"So goood! One of the best high protein cereals I've had !
"The Best Cereal created The taste is good, the crunch is great, yum yum.. it absorbs milk so good."
"Made for fitness lovers. Get the macros you need without any of the guilt! Best tasting high-protein cereal."

"The cereal you loved growing up, made nutritionally relevant to the adult you've become."

"Cinnabites is delicious!"




WHAT'S INSIDE?
MILK PROTEIN BLEND

TAPIOCA

COCONUT OIL

ALLULOSE

CINNAMON

Monk fruit extract

Natural flavors

Prebiotics
View Full Nutritional Info


US VS THE REST
LEADING PROTEIN CEREAL BRAND

LEADING CINNAMON CEREAL BRAND

130

Calories

140

calories

170

calories

14g

protein

12g

protein

2g

protein

1g

sugar

0g

sugar

10g

sugar
coconut oil
high oleic sunflower & avocado oil
canola & sunflower oil
Tastes amazing 🤤
A Cereal that helps me hit my protein intake but also tastes amazing 🤯🤯 definitely an item to keep stocked in the pantry 10/10
Truly crunchy and delicious
Cereal used to be a weekly treat because now it's a daily meal thanks to the crunch, flavor and quality of cereal club. Formulated to perfection and actually good for you now we just enjoy our cereal guilt free and enjoy every spoon full.
Delicious and Healthy
I am a huge fan of Cinnabites! The team has knocked it out of the park by creating something that is delicious and nutritious. I cant wait to try more flavors in the near future!
Yummy
Got my Cinna bites in the mail. Kiddos love dry I like with milk will be reordering
What makes our cereal high in protein?
Our cereal stands out in the market due to its unique and carefully crafted formula that combines high-quality protein sources, ensuring that you receive an optimal blend of proteins in every bite.
Our Protein Blend:
Whey Protein Isolate: This is one of the purest forms of whey protein available, boasting a protein content of over 90%. It's quickly absorbed by the body, providing instant access to essential amino acids which are crucial for muscle recovery and growth.
Acid Casein: Complementing the whey, acid casein is a slower-digesting protein that provides a steady release of amino acids over an extended period. This ensures that your body gets a sustained supply of protein, aiding in muscle recovery even hours after consumption.
No Seed Oils: Unlike many other cereals on the market, we make a conscious choice to avoid the use of cheap fillers and seed oils in our products. Seed oils are often high in omega-6 fatty acids, which can contribute to inflammation when consumed in excessive amounts. Our commitment to quality means we prioritize ingredients that support your health and wellbeing.
Clean Ingredients: We believe in transparency and integrity in our ingredient
How much protein is in each serving of Cinnabites? What about Sugar? 
Each delicious serving of our cereal packs a powerful protein punch with 14 grams of high-quality protein, ensuring you get a substantial boost of this essential macronutrient to kickstart your day or refuel after a workout. With each box containing 6 servings, you're looking at 84 grams of protein in each box! 
Cinnabites was made using natural sugars from Monk Fruit to give you a guilt-free tasty meal with only 1g of sugar in each serving.
Are there any allergens in our high-protein cereal?
Cinnabites are made in a nut-free facility.
The only allergen to note is Milk! 
How does the taste of our high-protein cereal compare to regular cereal?
If you're wondering how our high-protein cereal stacks up against regular cereal in terms of taste, we're here to assure you that you're in for a delightful experience! We've perfected the art of creating a cereal that retains its crunch, whether you're enjoying it with milk, yogurt, or straight out of the box. We prioritize using natural and wholesome ingredients, ensuring that every bowl is packed with genuine flavor, free from artificial additives.
In blind taste tests, many participants were pleasantly surprised to find they preferred the taste of our high-protein cereal over regular options, noting its rich flavor and delightful texture.
Can high-protein cereal help with weight management?
Absolutely! Incorporating our high-protein cereal into your diet can be a beneficial strategy for weight management for several reasons:
Balanced Meals: Starting your day with a protein-packed breakfast can help maintain steady energy levels and reduce the urge for mid-morning snacking.
Supports Muscle Health: Adequate protein intake is crucial for the maintenance and growth of muscle mass, especially if you're engaging in physical activity.
Note: While our high-protein cereal can be a helpful component in a weight management plan, it's important to maintain a balanced diet and engage in regular physical activity. Consultation with healthcare professionals is recommended for personalized advice and guidance."
Do kids enjoy eating Cinnabites?
Absolutely! Cinnabites have become a favorite among kids due to their delightful taste, fun size, and the enjoyable eating experience they provide. Here's why Cinnabites are a hit with the younger crowd:
Irresistible Flavor
Sweet Cinnamon Delight: The perfect blend of sweetness and cinnamon in Cinnabites makes them incredibly appealing to kids' taste buds.
Taste-Approved: Our product has undergone taste tests with kids, and it's a unanimous thumbs-up for the delicious cinnamon flavor.
We ship within the United States, Canada, and Mexico.
We will be offering new countries soon, be on the lookout! 
How long will my order take to ship?
We process all orders within 24 hours from when the order was placed.
Choosing a selection results in a full page refresh.
Opens in a new window.